Skin Lightening Treatment in Hyderabad
Skin Lightening Treatment in Hyderabad
Are you unhappy with your skin complexion?
Want to get rid of those ineffective skin lightening creams or lotions?
Then, visit Aesthetic Visions and plan a consultation with Dr Firdous Ibrahim. She is adept in offering safe and customized skin lightening treatment in Hyderabad.
Dr Firdous Ibrahim is a well-qualified and experienced skin specialist in Hyderabad. She is internationally trained and has a plethora of experience in the field of dermatology.
If you do choose to undergo your skin lightening treatment under her expertise, you can rest assured that you will be in safe hands.
Read more...
Consider Aesthetic Visions for Skin Lightening Treatment for guaranteed results!
Dr. Firdous Ibrahim is the founder of the Aesthetics Visions. She is an expert cosmetologist in Hyderabad. She has successfully treated many patients with skin lightening treatments and helped them achieve their desired skin tone.
She keeps herself updated with the latest developments in various cosmetic services like skin lightening treatment, pigmentation treatment, acne scar treatment, etc.
At Aesthetic Visions, we have state of the art cosmetology instruments that assist in providing skincare treatments efficiently.We offer individually tailored skin-lightening treatment.
Dr Firdous has magnificent persuading abilities and has managed many patients to choose for suitable treatment at the correct time.
What is skin lightening treatment?
You may observe that your complexion has darkened over some time. It may happen due to daily sun exposure. You may also want to get your original colour back.
Today, several advanced treatments are available to make your skin healthy once again. These treatments remove the damage from your skin and make your skin healthy, glowing and even-toned. We call such treatments that lighten your skin tone as 'skin lightening treatment'.
Skin lightening treatment includes a host of procedures. These procedures seek to enhance the complexion of your skin systematically. It targets specific tissues in the skin called melanocytes that are involved in the production of melanin.
Skin lightening treatment acts on these tissues and brings about a reduction in the production of melanin. It helps in decreasing the pigmentation of the skin.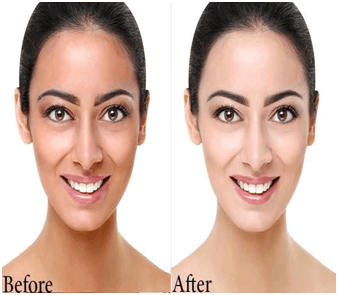 Image Credit:pinterest.com
Types of skin lightening treatments:
Many dermatologists offer skin lightening treatment as operative or procedures. We at Aesthetics provide skin treatments that are safe and effective. Some of the best skin lightening treatments include –
Hydroquinone treatment:
This treatment utilizes a topical inhibitor of melanin production. Thus, decreasing the synthesis of melanin, which is a skin darkening agent.


Arbutin treatment:
Your dermatologist will topically use Arbutin. It is an active ingredient extracted from leaves of berries. It has melanin inhibiting properties that cause skin lightening.


Laser treatment:


Laser treatments work by destroying darkened skin tissues with a directed laser. It also induces the production of new and lighter skin . The use of lasers to lighten skin is not as scary as it sounds. It can be safe and, if done correctly, can deliver excellent results.



Chemical peels:
Chemical peels are one of the efficient methods to lighten dark skin. It effectively reduces redness, spots and other signs of discoloured skin. Chemical peeling is usually used to treat acne scars, dark spots, and also works great on lightening skin tones.
If you want to restore the natural skin tone, make sure to hydrate, moisturize and de-oil your skin correctly. To achieve the best results in skin lightening treatments, you should use the right skin brightening products and a healthydiet. Oranges are very beneficial to the skin and are a rich source of vitamin C. They can brighten your skin by acting as a lightning rod.
Visit us at Aesthetic Visions and book an appointment with Dr Firdous Ibrahim. The consultations are faster, and we can start the treatment the same day.
FAQ
Is skin lightening treatment reliable?
Yes,skin lightening treatments such as chemical peels, laser lightening, etc.are safe. But it is advisable to visit a certified dermatologist to understand which skin lightening treatment option is best for you.