HIFU Treatment in Hyderabad | Aesthetic Visions
HIFU Treatment in Hyderabad | Aesthetic Visions
Are you missing the firm and youthful skin of your young days?
Are you looking for a facelift for your skin but afraid of surgery?
Then, HIFU treatment can help you. Dr. Firdous at Aesthetic Advance Cosmetology Center is providing the best HIFU treatment in Banjara Hills, Hyderabad.
Why Aesthetic Advance Cosmetology Center for HIFU treatment?
Our chief, Dr. Firdous Ibrahim, is one of the famous Cosmetologist and Trichologist in Hyderabad. Her profound knowledge and high experience have given utmost satisfaction to many a patient.
We at Aesthetic Visions believe in providing personalized treatment for all our clients. Our treatments are according to the standards of modern science. We work with a team of highly experienced and talented staff to assist in our treatment procedure.
Among all our treatments, HIFU treatment, as a facelift, is very famous among our patients. To know more, book an appointment now.
What is HIFU treatment?
HIFU stands for "High-Intensity Focused Ultrasound". It is very beneficial for skin lifting, skin tightening, body contouring, and youthful appearance.
HIFU cosmetic treatment works by targeting deep layers in the skin. Sometimes the is called the High-Intensity Focused Ultrasound for Face Lifting.
How does a HIFU treatment take place?
HIFU treatment is a new method for your anti-aging treatment compared to other surgical facelift techniques. HIFU treatment includes the following steps to complete the procedure-
At first, we clean your skin before the treatment.
You may be given specific topical anesthesia cream before starting your treatment.
After this, we apply ultrasound gel to your skin.
Now, when the preparation is complete, we use the HIFU device against your skin.
Once the treatment starts, we take care of the adjustment of the treatment device.
The requires the delivery of short pulses of ultrasound energy for about one hour.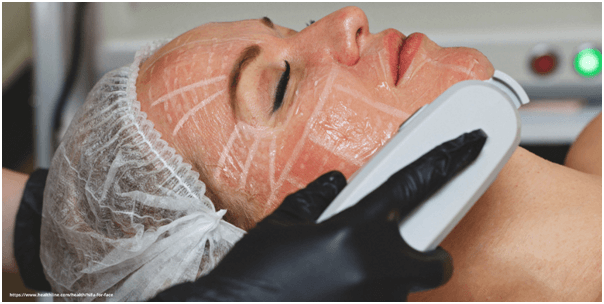 How does HIFU treatment work on your skin to fight the signs of aging?
The heat energy delivered to your s can stimulate and renew the skin collagen production in your skin. Hence, it helps to improve your skin's texture, reduces sagging, and dropping. You will get tight skin in your face, neck, and upper chest area.
Let us have a look at the benefits of HIFU facelift treatment
HIFU treatment is becoming more famous day by day because of the numerous benefits it provides. The advantages are as follows-
The treatment tightens your sagging skin and gives you a firm, youthful look.
You will see a reduction in the number of wrinkles on your skin.
HIFU treatment helps in lifting your eyebrows, eyelids, and the area around your lips.
It enhances the definition of your jawline.
Along with these, the treatment tightens your decolletage area.
Your skin becomes smoother than before.
The result of the HIFU treatment is long-lasting.
There is no downtime required for the treatment.
The treatment is safe and very effective.
What should you expect after the treatment?
After treatment experiences are as follows-
Slight discomfort may arise just after the treatment, such as mild itching and prickly sensation.
You may experience slight pain in the treatment area. All will go away if you take certain medications as per the advice of Dr. Firdous.
There can be mild swelling or redness, and inflammation may occur for a few hours only.